Straight teeth and a stunning new smile
Dental braces don't just straighten teeth; they can space out crowded teeth, close gaps and correct bite issues. Adult braces can give you a brilliant new smile which can increase your self-esteem.
Braces are no longer just for children, we have treated thousands of adults throughout Kingston, Hampton Wick, Surbiton, Norbiton, Twickenham Teddington Richmond, Hampton Court, East Molesey, Esher. and Hampton for clear, fixed and invisible braces.
Book your free consultation today and talk to us about affordable braces or book online
Book your free consultation
for Teeth Straightening
Free initial braces consultation worth £95
Free teeth whitening at the end of your treatment worth £345
Free vivera retainers worth £495 x 3 sets
Award winning dentists
Interest free finance & payment plans available to help with the cost
Teeth straightening options
We offer a wide range of adult braces to straighten your teeth. Whether you're looking for invisible braces or you want to straighten your teeth quickly, we have a solution to suit you.
Choosing between the dental braces can be confusing and that is why we recommend you book a free consultation to come in and discuss your options with our dentist. Together we can talk through your objectives for having your teeth straightened. We can then discuss the range of brace treatments make recommendations that will be suitable for you.
Our range of affordable braces are listed here, take a look through the options and contact us for your free consultation to find out more.
Cost of Braces In Kingston
Braces - Teeth Straightening

Free initial consultation worth £95
Ideal as part of a smile makeover such as veneers
Free 3D scan worth £350
Free vivera retainers £495 x 3 sets
Free Enlighten whitening worth £345
Free Tooth Sculpting worth £380

Consultation
FREE
Invisalign GO braces
CALL
Invisalign I7 braces
from £1,499
Invisalign Lite braces
from £2,600
Invisalign Full
from £3,330
Inman Aligner braces
from £1,850 per arch
6 Month Smiles braces
from £1,750 per arch
Lingual braces
CALL
Fast braces
CALL
Damon braces
CALL
Affordable dental treatment with 0% finance options available
Here at Smile Rooms Kingston, we offer a variety of orthodontic appliances suitable for all teeth issues, helping to make you look and feel fantastic!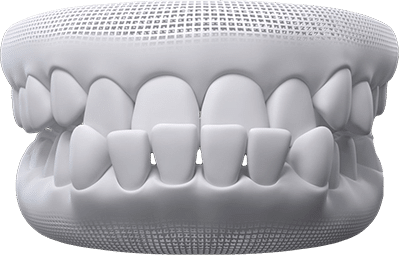 Underbite
An underbite is when the lower teeth and jaw distends past the top teeth when you bite. It can be caused by an undergrowth of the top jaw, or an overgrowth of the bottom jaw. But in either case, an underbite can lead to painful jaw problems, and tooth wear as it interrupts the normal bite.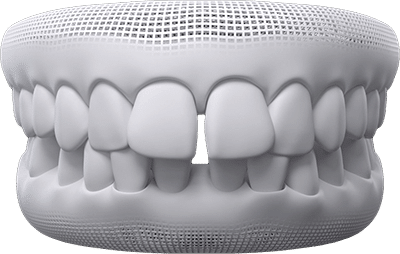 Spaced and gaps
Spacing problems between teeth can happen with the continued abnormal growth of the jawbone. If you suffer from missing teeth, then this can cause teeth to shift from their usual position because of the extra space. Very spaced, or gappy teeth, can lead to gum problems and periodontal disease.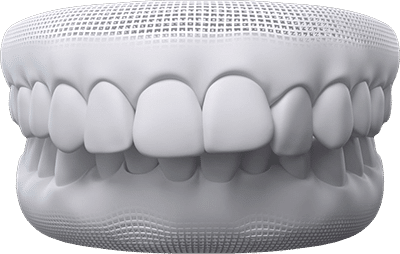 Overbite/Overjet
An overbite is also known as an overjet of the teeth. It is when the top teeth extend over the bottom teeth. This issue can be caused by bad oral health, over or under development of the bone supporting the teeth, or even genetics. It can lead to wearing down of teeth, gum irritation, or even painful jaw problems.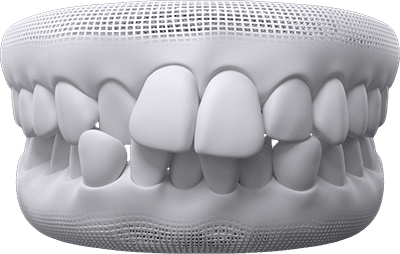 Crowded teeth
Crowding of the top teeth, bottom teeth, or all of your teeth can occur when there is not enough room in your jaw. If left untreated, the crowding of teeth can get worse, and this can create problems for your oral hygiene routine as plaque can build up. There is also a risk of tooth decay and gum disease.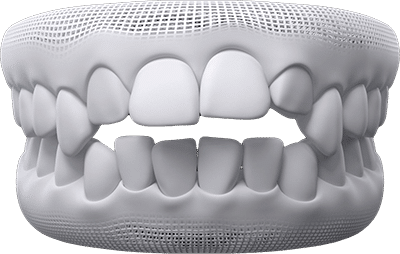 Openbite
An open bite is when the upper and lower front teeth do not make contact with each other to achieve a bite. It can be caused by excessive thumb-sucking as a child, or even a genetic abnormal jaw structure, and can result in painful/poor chewing habits, a speech disorder, or even lead to temporomandibular joint disorder (TMJ).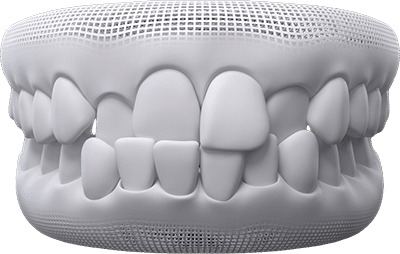 Crossbite
A crossbite is the misalignment of the jaws when you bite. It causes one or more of the upper teeth to bite on the inside of the lower teeth. Crossbite can be due to abnormal tooth eruption, thumb-sucking, or even hereditary, and it create dental issues such as wearing down teeth, bone loss, and gum disease.