Dental crown in Hampton Wick
If you have a cracked, fractured or badly decayed tooth, a dental crown can be used to repair it. Usually made from porcelain, dental crowns are strong and have a natural appearance.
Patients throughout Kingston and beyond are opting for dental crowns as a safe and easy way to repair damaged teeth.
Dental crown procedure in Hampton Wick
The process of a dental crown, usually needs at least two visits. After your initial free consultation, your dentist will need to prepare your tooth for the crown. First the tooth is cleaned and re-shaped. Then an impression or mould is taken of your tooth so that our laboratory can custom build your crown. You may be fitted with a temporary crown whilst your crown is being built. Your final visit will see the removal of the temporary crown and your new crown being fixed into place.
Many patients often ask, "how long do crowns last?" There is no reason why dental crowns cannot last for years providing you take good care and practice good hygiene of your crown as you would do with your other teeth.
Book your appointment for Dental Crowns
Benefits of a dental crown
Dental crowns can be used on a tooth which has been broken or worn down
They are also used after root canal treatment to strengthen the tooth
Crowns can help improve the look of your tooth
They can improve your bite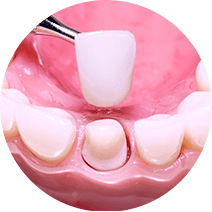 How much do dental crowns cost?
Prices vary according to each individual treatment, but on average our tooth crowns cost between £550 to £1250 per tooth. We offer 0% interest on our dental crowns.
Book your free consultation now and start your journey to a brand-new smile!